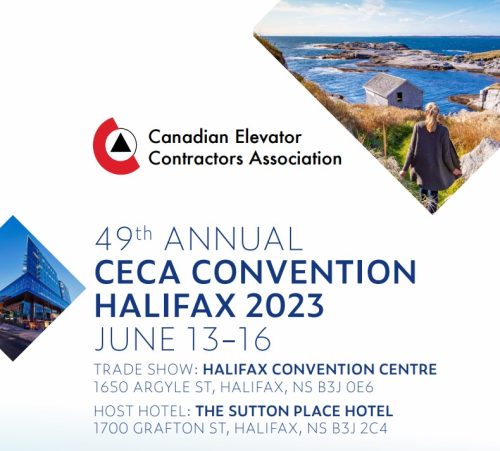 Come to Canada's "City of Trees" for our 49th annual CECA Convention in Halifax, NS – June 13 – 16, 2023!
Come join us in one of Canada's most hospitable provinces for our 49th Annual CECA Convention! While Halifax may be nicknamed the City of Trees, Nova Scotia is Canada's Ocean Playground! In fact, if you are in Nova Scotia, you will not be farther then 60km from the Ocean at anypoint. Halifax itself is home to one of the longest downtown boardwalk! Lucky for you, our convention takes place in the heart of Halifax at the Halifax Convention Centre with the host hotel, The Sutton Place Hotel Halifax in the same Nova Centre complex. This is just a short walking distance of many prominent destinations including the Citadel and the Ocean. Our 2023 CECA Convention is hosted by CKG Elevator. Come to celebrate with us and experience all this Bluenose province has to offer! For more Halifax information see Discover Halifax or our Custom CECA Page on Discover Halifax site!
Hotel and Trade Show
The Sutton Place Hotel Halifax
1700 Grafton Street, Halifax, Nova Scotia B3J 2C4 Canada
Registration is now closed.